Repro Inserts, Boxes & Paperwork for the 12 inch Action Figure Line & 3 3/4 inch vehicles & Play-sets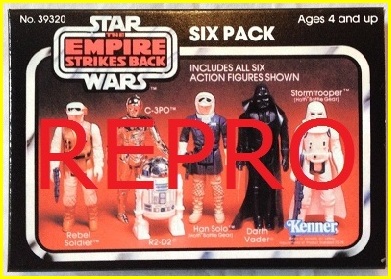 Update April 2015
TIG advises you to check your boxes, inserts and paperwork for repros! Repro maker Darren Orme continues to expand his fake boxes and inserts for the vintage Star Wars line. To date (April 2015) reproduction boxes and inserts have been made and sold for...
12 inch boxes & Inserts:
All including the 12 inch Basa Chewbacca & Vader.
Displays/Backdrops:
Early Bird Display backdrop & box; 12 Back Display Headers; Palitoy Cantina backdrop; SW & ESB Display Stand; Rebel Command Center; 12-back header; Boba Fett Offer header & bin; Collect all 21 header & bin; ESB prototype header & bin.

Vehicles & Play-sets:
Sandcrawler vehicle; Palitoy Deathstar; SW Sonic Controlled Land Speeder; SW Palitoy X-Wing; SW Palitoy Landspeeder; POTF Ewok Combat; POTF Hoth Rescue; POTF Endor Chase; POTF Tatooine Skiff.
Figure/Creature packs:
ESB 6-pack yellow & red boxes; ESB HothWampa/Wampa; ESB TaunTaun solid/open belly; ESB Canadian Dewback; SW Dewback/Dewback Collector Series.
Other:
ESB Yoda puppet; SW Palitoy Talking R2-D2.
Most of these products in-hand are quite obviously fake but not easy to detect in auction photos. If you are buying and are unsure ask the seller if the boxes/inserts are original and request close-up photos.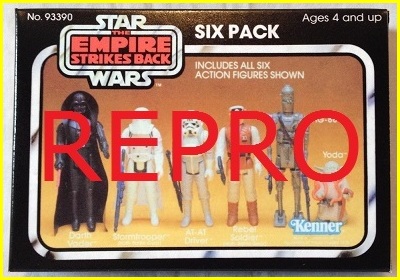 History
Discovered on eBay in April 2014, Darren Orme, eBay name: Replictor-boxes-and-inserts (pre Jan 2015 previously known as replicatorreproductionvintagestarwarsboxesandinserts) began selling reproduction boxes and inserts for the 12" and 3 3/4" action figure lines and vehicles.
Below are some of the images used showing the earlier markings "R" used for the 12" line of boxes and inserts. The paperwork was unmarked at the time.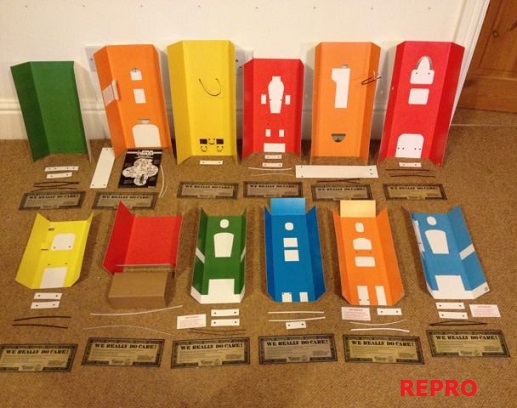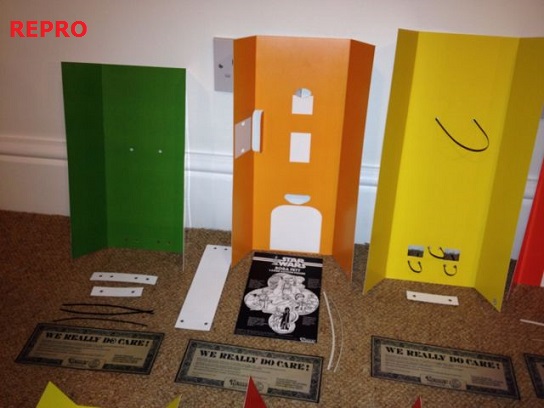 Reproduction Boxes
The same seller also listed repro boxes for the Boba Fett & IG-88 12 inch Action Figures, and a repro box for the POTF Tattooine Skiff vehicle.

The photo below shows digitized images on single sheets of lustre paper ready to be attached to card.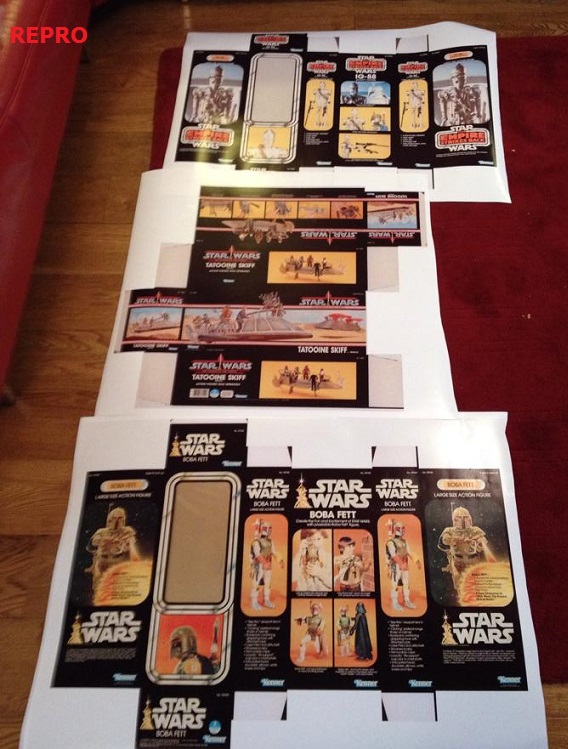 The seller, in dialogue with TIG, stated that all future paperwork items would be marked and improvements made to the marking on boxed items and 12" inserts. This means there should only be a small quantity of unmarked paper items and other items marked with the previous "R" symbol already sold. Future releases would (we were told) contain the marking: "Replicator Boxes".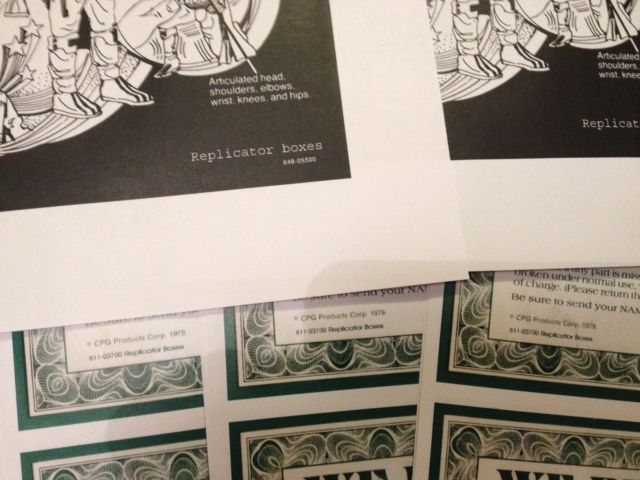 Fake Cardboard Inserts For Boxed Items
As well fake boxes, Darren Orme also made repro cardboard inserts for EVERY vehicle, play-set, creature and mini-rig produced for the 3 3/4 inch action figure line, including the Glasslite style inserts for the X-Wing, Tie Interceptor and Tie Fighter.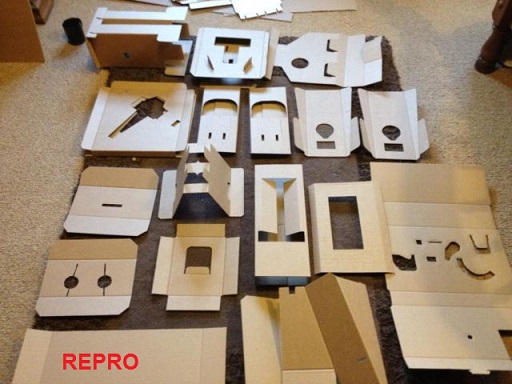 TIG verified some of the new repro inserts in-hand. We can confirm that the ones we have seen so far are marked as repro with a stamped letter "R".
Please be aware that prior to the marking of his repro inserts the seller had already shifted onto the market 7 (seven) years worth of unmarked repro cardboard inserts. From the seller's own auction listing:
"CARDBOARD INSERTS THERE ARE ABOUT 7 YEARS WORTH OF THESE WITH NO MARKS BUT ARE EASILY IDENTIFIED IF YOU KNOW WHAT TO LOOK FOR ALL OF THEM WILL HAVE A SMALL FLICK MARK IN PENCIL ON ALL FOLD LINES BOTH END OF FOLD, ALSO IN THE FOLD LINES THERE WILL BE NO SMALL SLITS THAT ARE CUT INTO THE ORIGINAL INSERTS AND ALSO ALL ORIGINAL INSERTS HAD A NUMBER ON THEM MADE OF DOT MINE DO NOT HAVE THESE SLITS OR NUMBERS ON THEM"
Note: although most original inserts did carry a serial number, there have been a few examples without numbers noted by collectors.